Electronic lock management

generates codes for electronic door locks.  (NOTICE: For purchases please use the Italian section of the site.)



Our electronic keypad locks generate codes. For security it is necessary to generate the codes, which act as keys, through our Management System.

Door opener with codes – Sending codes.
Subsequently, the codes are generated and sent automatically to the guest by whats-app or by email.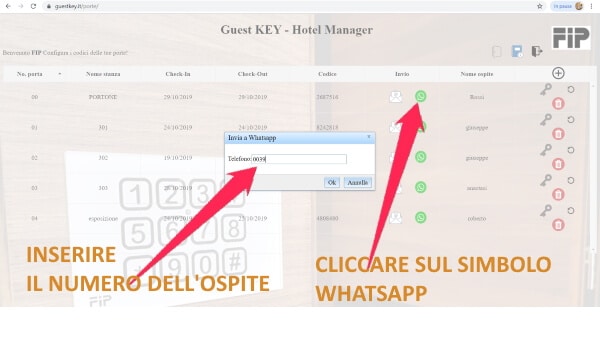 Codes are timed

.
The GUESTKEY keyless electronic management system is the heart of the system. It allows the owner of the facility to manage the electronic lock keypad with codes valid for a preset time. Access to the RESERVED AREA of the site allows you to operate safely and quickly for customer management. The fee for the platform is to be paid annually as it includes, in addition to using the platform, also assistance from our technicians on installation and configuration.
The fee allows you to manage up to 99 locks with code without keys, ideal for access control for b & b or other structure.
Codes have no cost.
Management of electronic locks without keys – door opener with code.
The main features of the management of electric locks without keys, includes:
● SAFE AUTHENTICATION BY INSERTING CREDENTIALS PROVIDED IN THE PURCHASE PHASE.
● DOORS ARE CREATED TO BE ASSOCIATED WITH THE KEYBOARD UP TO A MAXIMUM OF 99 DOORS AND A MAIN ENTRANCE DOOR.
● TEMPORARY CODES FOR ROOM ACCESS ARE GENERATED, WITH CHOICE OF THE VALIDITY PERIOD.
● ELIMINATION AND / OR ADDITION OF ADDITIONAL KEYBOARDS.
● Keyless lock – SENDING THE CODE TO THE CUSTOMER VIA EMAIL AND / OR WHATSAPP, WITH THE TEMPLATE ALREADY PRE-SET AND IN A FULLY AUTOMATED MANNER. PRESENCE OF A LOG REGISTER FOR ALL OPERATIONS CARRIED OUT FOR OPENING DOORS WITH CODE.
Keypad Electronic locks prices.
Go to the keypad Electronic locks for external prices.
Please make your purchase in the Italian section of the site.
Guestkey
è un prodotto
FIP S.R.L.