LOCK WITH CODE AND FINGERPRINT READER
La nuova serratura di ultima generazione racchiude tutta l'innovazione nell'ambito dei sistemi di domotica apriporta. Il sistema si integra perfettamente con porte già esistenti e di nuova realizzazione e consiste nella gestione degli accessi tramite codice, app e impronte digitali.
Puoi inviare i codici di accesso anche da remoto, senza essere fisicamente presente in struttura, mentre per una maggiore comodità puoi utilizzare il lettore di impronte digitali per permettere l'accesso alla stanza di hotel o b&b al personale di servizio.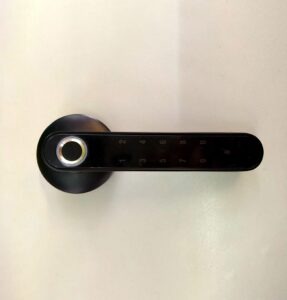 LIMITA L'ACCESSO DELLE AREE INTERNE CON ACCESSO LIMITATO
The fingerprint reader allows you to easily manage limited access in your facility. In fact, it can record the fingerprints of only authorized personnel, so they can access easily without carrying physical cards or keys. The electronic locks work with batteries, so you can install them both on existing doors, without having to carry out expensive building work, but at the same time they can be installed on a new door model, preventing any problems that may arise with the use of classic systems with cables.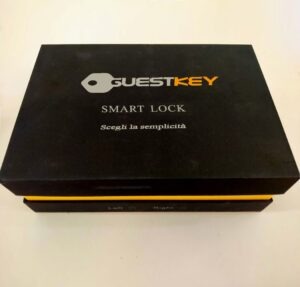 Il proprietario avrà piena gestione della serratura, sfruttando la nostra app potrai gestire  e creare:
Chiavi digitali, per permettere l'accesso a clienti o collaboratori tramite il loro smartphone, sfruttando la connettività bluetooth della serratura.
Codici criptati, da generare anche da remoto, che possono essere per un singolo accesso, temporanei, o permanenti.
Registrare impronte digitali, per permettere l'accesso al personale autorizzato semplicemente appoggiando il proprio dito sul lettore di impronte e sbloccando la serratura.
FEATURES OF THE ELECTRONIC LOCK WITH FINGERPRINTS
The owner can open with the application or by registering his fingerprint on the lock. It manages the entrances to be authorized and thanks to the codes generated you will have no problems with arrivals at night or on holidays. Easy to install, it does not require cables and can also be installed on existing doors and without preparation for home automation systems.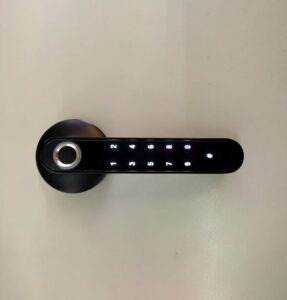 Le serrature porte ingresso per hotel sono realizzate in lega di acciaio inossidabile e rame, di elevata qualità e sicurezza.
Potrai visionare il livello della batteria direttamente tramite App, e potrai ricaricarla facilmente tramite cavo USB, e in caso di emergenza farla funzionare tramite pawer bank.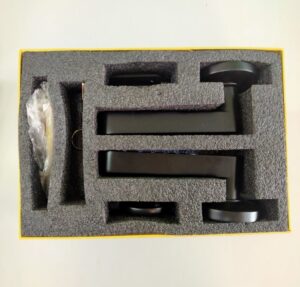 E' inoltre dotata di chiave di emergenza meccanica per aprire la serratura manualmente, in caso di estrema necessità.
Non è necessario predisporre fili elettrici.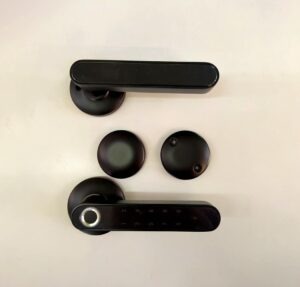 The electronic lock with fingerprint reader consists of:
Pair of handle with lock Fingerprint and integrated numeric keypad
Pair of Rosettes to cover the existing Yale lock hole
Mechanical lock with provision for Yale cylinder
N° 2 Mechanical keys for emergency openings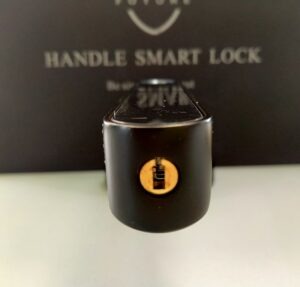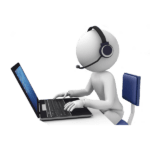 Assistenza Tecnica
Ti assistiamo telefonicamente dall'acquisto fino alla fase di montaggio del sistema di domotica più adatto al tuo Hotel.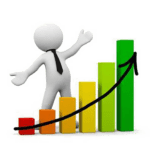 Ottimizzazione costi
Incrementa i tuoi profitti, risparmiando sui costi di gestione e attivando i servizi in camera contemporaneamente all'arrivo del cliente.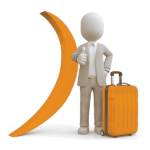 Soddisfazione clienti
Lascia i tuoi clienti soddisfatti dall'ottimo livello di tecnologia e sicurezza garantito dai nostri sistemi di domotica.