The Manager for the Aladino system creates the keys for the electronic locks and for starting the services.
Our management is the basis where you can organize your structure. After installing our Aladino home automation system, you will be able to access the system through the management system, where at the first start you will organize and associate all the rooms and services connected to the system. Once the structure has been initialized, the structure can be managed by accessing the management system from any internet browser and from anywhere in the world
.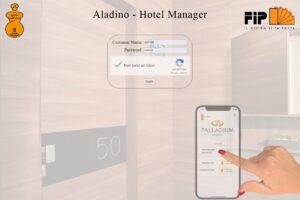 Customer Management.
The management system for ALADINO home automation systems is the heart of the system. It allows the owner to manage the entire structure by creating keys for each customer for the pre-established time. Access to the RESERVED AREA of the site allows you to operate safely and quickly for customer management
.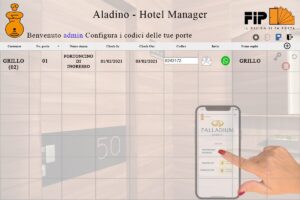 Register your customers in a few steps.
Registering the guest and associating him with the desired room will be quick and easy, just enter the date of arrival and departure and the name of the guest in a few simple steps.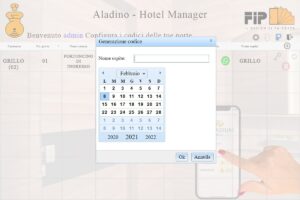 Send the access keys.
Once the registration is complete and the telephone number has also been entered, you can click on the respective buttons (email or whatsapp) to send the access keys to the rooms and associated services to the registered customer.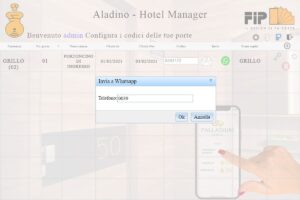 What our package offers
The fee for the platform is to be paid annually as it includes, in addition to the use of the platform, also assistance from our technicians on installation and configuration.
The fee allows you to manage the entire home automation system, ideal for access control for b&bs, hotels or other structures that need an electrical home automation system.
Key generation has no cost.
The main features of keyless electric lock management include:
● SECURE AUTHENTICATION BY ENTERING THE CREDENTIALS PROVIDED AT THE PHASE OF PURCHASE.
● YOU CREATE AND ASSOCIATE THE PORTS AND SERVICES CONNECTED TO THE SYSTEM FOR THE FIRST TIME.
● THE ELECTRONIC KEYS FOR ACCESSING THE ROOM AND THE COMMON ACCESSES ARE GENERATED, WITH THE CHOICE OF THE PERIOD OF VALIDITY.
● POSSIBILITY OF INTEGRATION OR ELIMINATION OF ROOMS AND SERVICES.
● POSSIBILITY OF SETTING ALERTS FOR CERTAIN EVENTS PRESENCE OF A
● LOG REGISTER FOR ALL OPERATIONS CARRIED OUT FOR OPENING DOORS AND STARTING SERVICES
.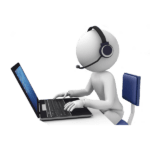 Assistenza Tecnica
We assist you by telephone from the purchase to the assembly phase of the most suitable home automation system for your hotel.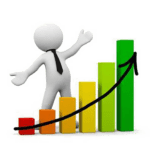 Ottimizzazione costi
Incrementa i tuoi profitti, risparmiando sui costi di gestione e attivando i servizi in camera contemporaneamente all'arrivo del cliente.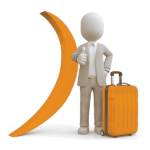 Soddisfazione clienti
Lascia i tuoi clienti soddisfatti dall'ottimo livello di tecnologia e sicurezza garantito dai nostri sistemi di domotica.
Keypad Electronic locks prices.
Go to the keyboard Electronic locks for outdoors prices.